Front Office
OLIVIA PASQUARELLI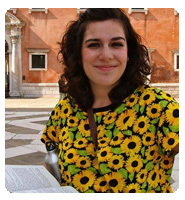 Manager, Creative Services
OPasquarelli@BrooklynCyclones.com
PH: 718-382-2606
Olivia Pasquarelli was born and raised in New Jersey and moved to Brooklyn to attend Pratt Institute in 2012. She graduated with a degree in Communication Design in 2016, and has lived in Brooklyn ever since.
Olivia has extensive experience in the creative side of marketing and has worked for a number of different companies to help execute the vision and story of the organizations. She lives in Brighton Beach and holds Coney Island close to her heart as her favorite place in the world. She's really excited to be working for team that brings happiness and fun to Coney Island.
Fun Fact #1
– She has a really cute cat named Merlin.
Fun Fact #2 –
Boxing and other marital arts are her favorite sports to both watch and participate in.
Fun Fact #3 –
She's a huge bookworm and usually reads a book a week.
Who was your favorite cartoon character when you were a kid?
I absolutely loved the show Recess, and Spinelli was my favorite because she was so tough and independent.
What is your favorite month of the year and why?
October is definitely my favorite month because Halloween is in October and there is nothing I love more than Halloween. I also love the crisp autumn air and going apple picking.
Favorite type of candy?
I love anything sweet but my favorite candy of all time would have to be York Peppermint Patties.
What was the best piece of advice you have ever received?
An amazing professor I had in college, Rudy Gutierrez, always encouraged me to "Follow My Path". Even when my path was different than my fellow students, and later on my colleagues, he pushed me to believe in myself and be the best at what I love to do. If I try my best and listen to my intuition, I always end up in the right place!
If you could share a pizza with any three people –living or deceased, who would you choose?
Cleopatra, David Bowie & Marilyn Manson.
What is the best concert you have ever attended?
I've been to hundreds of concerts because I used to photograph them, so this is a hard one. Brian Wilson from the Beach Boys blew me away and brought tears to my eyes.
If you were an inmate on death row, what would your request for a last meal be?
A pasta dish from this tiny restaurant in Rome called Da Fortunato. A family owns the restaurant and a tiny Grandma hand makes the pasta all day. I've eaten there twice and cried both times. And a crème brûlée for desert which is my favorite!
If you were stuck in the movie Groundhog day, what day would you relive over and over again?
A few years ago when I was a camp counselor in Minnesota, I was with a group of campers on a rock climbing trip in Duluth. The hike was so beautiful, and belaying 100s of feet off the side of a mountain was so fun I would totally do it over and over again.
Pick the one that you think is more likely to be real –Ghosts or Bigfoot?
I totally believe in all things supernatural and paranormal! I'd have to say ghosts because I have experienced one in my lifetime. I have not yet come face to face with Bigfoot.
What apps do you use most frequently?
I live on Instagram! I love doing make up art for fun, so getting inspiration from other creative people is great. I also love Reddit for forums about literature, makeup, and memes.
What was your favorite toy when you were a kid?
I loved Barbie's and Polly Pocket's because I liked to give them haircuts and create mini soap operas with the dolls. I would build houses for them and design clothes for them too.
Who was your favorite teacher?
My art teacher in high school, Mrs. R, was a huge inspiration to me. She taught me so much and supported me when I was applying to art schools. I wouldn't be where I am today without her!
Do you believe we landed on the moon? Or was it a sound stage in LA?
I've been to LA and they definitely have the ability to fabricate a moon landing on one of their sound stages. However, I think there's enough scientific evidence to prove that we actually landed on the moon.
What movie always makes you cry?
E.T. Phone Home…. Gets me every time.
If you won the lottery, would you still work?
I would take some time off to travel the world but would definitely still work. I'm way too much of a busy body to not work. After giving my parents enough money to retire and live very comfortable lives, I would probably go back to school to get my masters and eventually my PHD, and become a professor and write for the rest of my life.
Have you ever met anyone famous? Were you star struck?
I high fived Bruce Springsteen once. I wasn't star struck but my mom was.